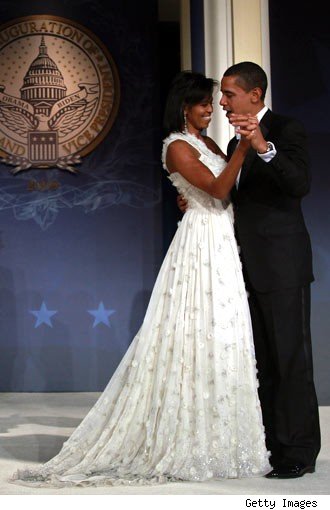 Barack and Michelle Obama should be highly flattered…or annoyed.
In recent weeks, both the President and the First Lady have been featured in advertisements, without giving their consent or approval.  First, Michelle Obama was featured in PETA's newest 'Fur-Free and Fabulous' ad, alongside Oprah Winfrey, Carrie Underwood and Tyra Banks.  PETA admits that they did not ask for the White House's consent to use the First Lady in the ad.  However, since the First Lady swore off fur in a statement back in June, PETA felt this was enough leverage to use Mrs. Obama in their ad.  Really, PETA?
Then, Mr. Obama was featured on a billboard (in Times Square, no less) by Weatherproof Garment Company, shown wearing one of the company's jackets during a recent visit to China.¬† Again, Weatherproof did not ask for consent from the White House to feature the President in their ads.¬† "Weatherproof did not seek permission from the White House, and does not believe it was necessary to do so as the billboard does not claim Mr. Obama endorses the product.'Ä̬† (Um, sure.¬† Let's not neglect the fact that the the billboard's tagline is,¬†"A leader in style.")
To address the Weatherproof situation, White House deputy press secretary, Bill Burton, reiterated that "the White House has a longstanding policy disapproving of the use of the President'Äôs name and likeness for commercial purposes."¬† Makes sense!
After hearing about these two stories,¬†I wondered if it would be viable for the Right of Publicity to extend to the First Family.¬† The definition of the¬†Right of Publicity is " …the¬†right to prevent unauthorized use of one's name or likeness by a third person for commercial benefit."¬† And,¬†isn't commercial benefit what PETA and Weatherproof were ultimately seeking? Both ads¬†would more than likely¬†lead the public to believe that the¬†President and First Lady endorse¬†the products/organizations, thus leading to¬†increased sales,¬†donations, interest, potentials clients, etc.¬†¬† Given this, isn't it fair to say that PETA and Weatherproof both infringed on the President's and First Lady's Right of Publicity?
Other celebrities would think so!  Rapper 50 Cent recently sued WorldStarHipHop.com for using his image on their website without his permission.  Last year, Jennifer Lopez and Marc Anthony sued a stroller company for using their image to help sell one of their products Рunauthorized, of course.   And, even Michael Jordan took on the big Chicago-area grocery stores, claiming Jewel and Dominick's used his image (and Bull's number!) without his consent.
But let's face it Рeven though 'normal' celebrities can seek to protect their Right of Publicity through these lawsuits, I don't think that it applies in quite the same way for the Obamas.  Imagine if Michelle Obama suddenly decided to sue PETA.  Imagine the backlash/global controversy/PR nightmare that would ensue.  Disaster, indeed.  PETA and Weatherproof  have execs smart enough to know this, which is why it's amusing to me that both companies have 'graciously' complied with the White House's request to take down the ads.  (Word on the street РWeatherproof is now seeking  to replace the Obama ad with one with Sarah Palin.)  These ads are merely both company's shameless attempt to generate a buzz and gain some publicity.
Judging by the amount of blogs and articles out there on this subject (including this one), I'd say it worked…wouldn't you?
Posted by Melanie on January 29, 2009 at 3:42pm.